COUPLE PATTERN ANTI-MOSQUITO MAGNETIC SCREEN DOOR (PURPLE)
Why You Need It
In summer, you may want to have your doors open to enjoy the breeze flowing inside and cool your rooms. However, the trouble is that you may end up creating a big opportunity for unwanted insects, bugs, especially mosquito into your home as well. In such case, you may need our Magnetic Screen Door, which allows an inflow of the air but not insects and bugs.

Main Features:
1. Powerful Magnet
The middle seam of the screen door is strategically lined with powerful magnetic strips, allowing the door to open easily and close automatically and seamlessly! Even with kids running in and out all day, the barrier remains firmly in place.

2. Universal Size
If your door frame measures 39" or less in width and 82" or less in height, then this adjustable hanging screen door will be the perfect fit! There are two sizes for choosing, you can take the most suitable one for yourself.

3. Ventilate Mesh
The magnetic gate comes with ultra-thin but durable mesh, making it easy to walk through as well as blocking off any bugs like mosquito from coming into the house. It allows you to enjoy the breeze flowing inside and cool your rooms while keeping insects and bugs away.

4. Easy Installation
The magnetic curtain contains all hardware you need. The door stop on the top of the gate has been installed, which makes it convenient to quickly install and remove in a few steps.

5. Wide Application
With its excellent performance, it can be used as a replacement for a fixed screen door, suitable for installation in the living room, bedroom, dining room, kitchen, etc.

Tips:
1. Measure your door before ordering to be sure our screen will fit.
2. Due to the reason of measurement, plus or minus 1 - 3cm error is permissible.
Function: Decoration + Full Light Shading
Installation Type: Exterior Installation
Location: Door,Kitchen,Living Room
Material: Polyester
Opening and Closing Method: Left and Right Biparting Open
Processing Accessories Cost: Included
Style: Classic
Package weight: 0.301 kg
Product Size(L x W x H): 210.00 x 90.00 x 0.10 cm / 82.68 x 35.43 x 0.04 inches
Package Size(L x W x H): 27.00 x 34.00 x 6.00 cm / 10.63 x 13.39 x 2.36 inches
Package Contents: 1 x Magnetic Screen Door, 1 x Bag of Accessories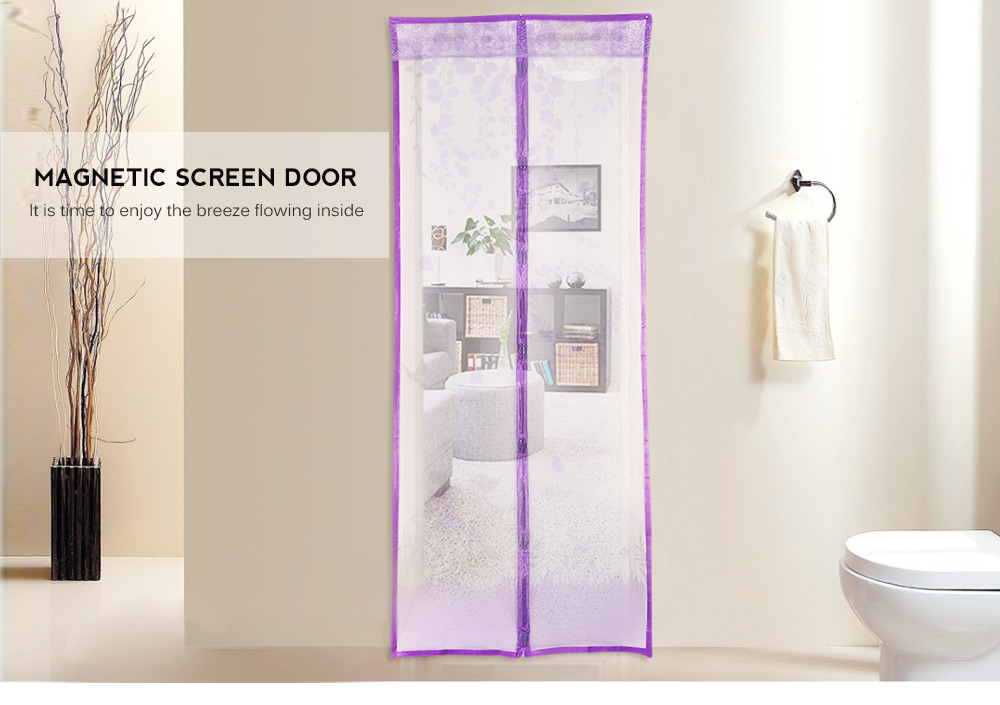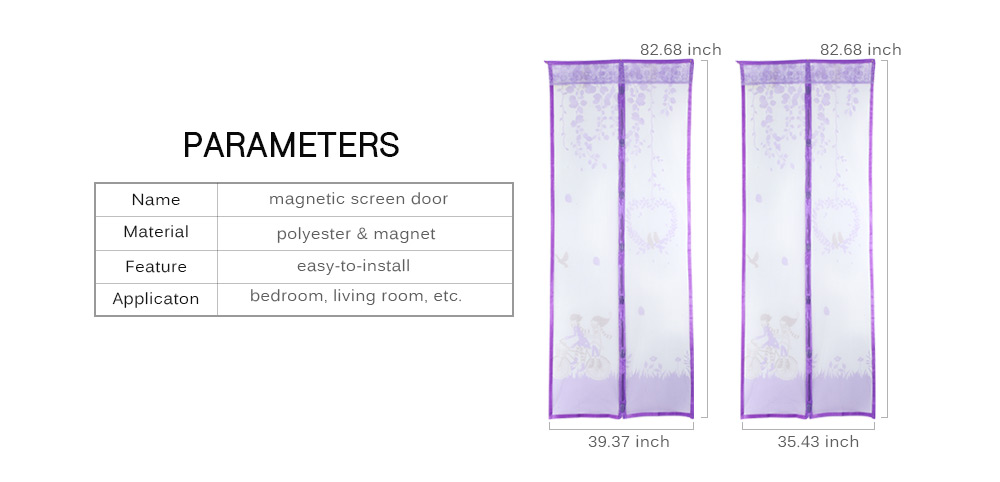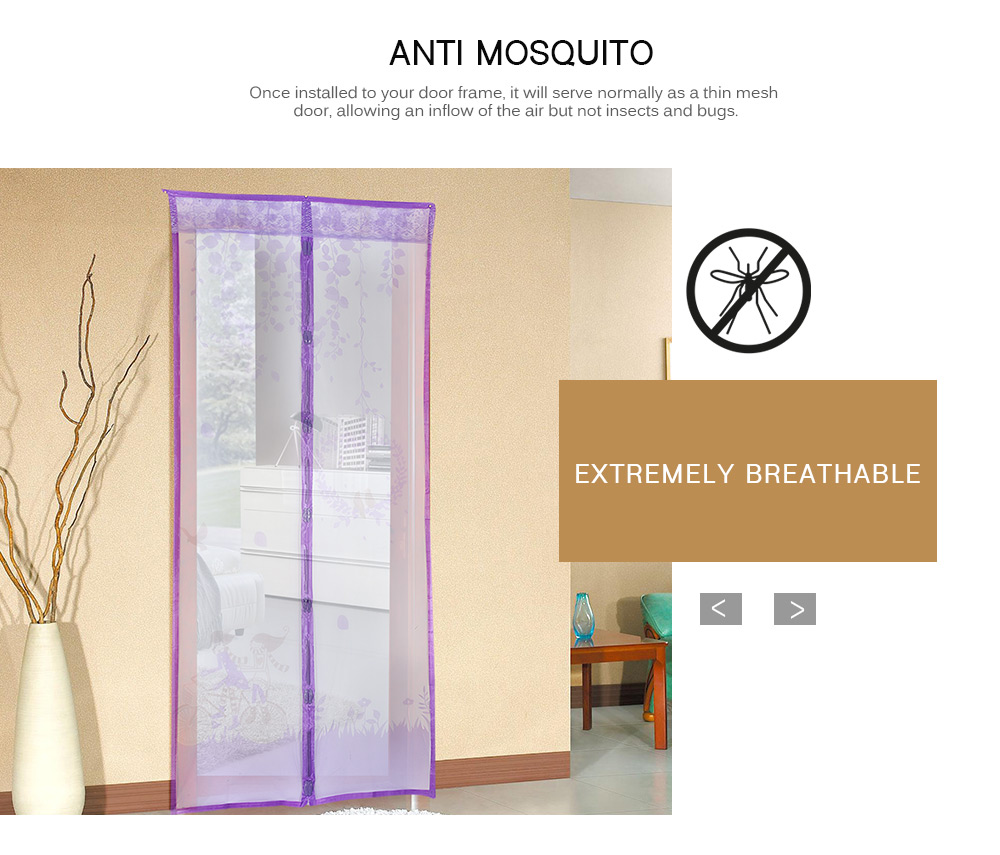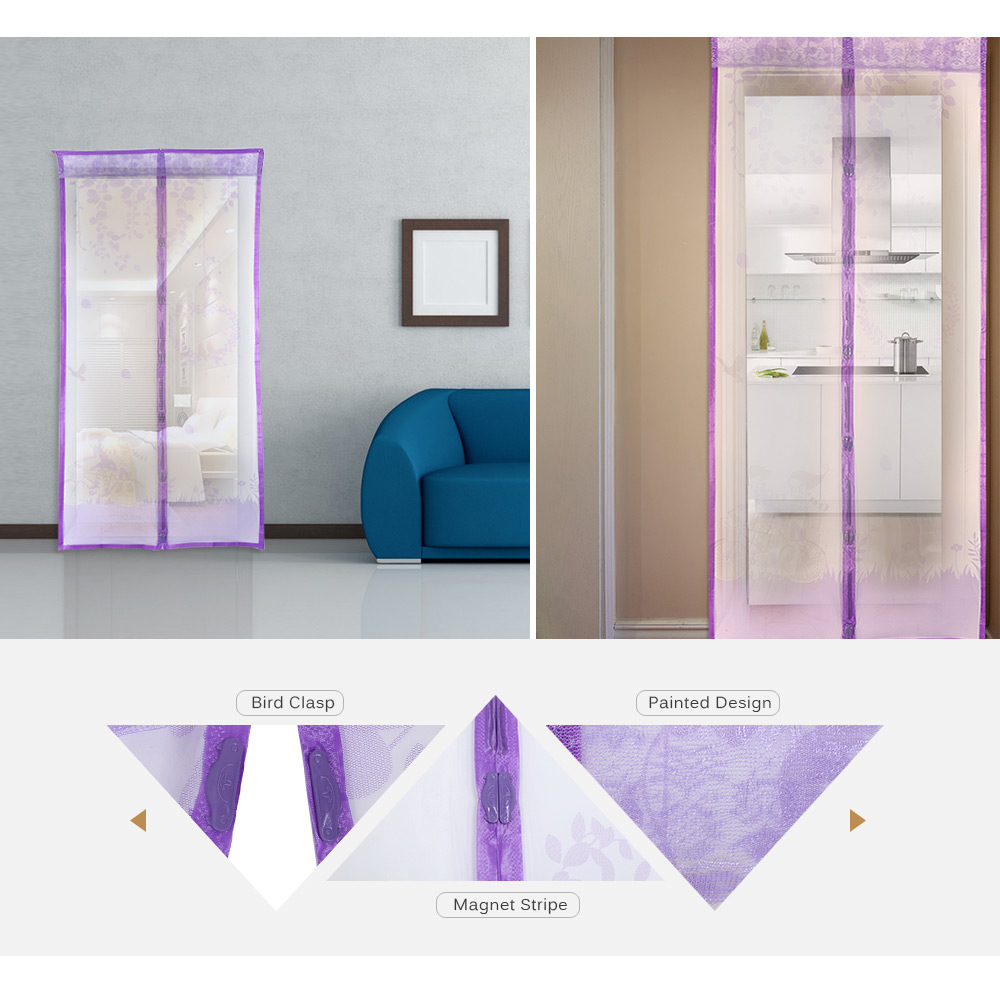 ---