KR - 8100 NFC 3D SOUND WIRELESS BLUETOOTH V3.0 LIGHT SENSITIVE TOUCH BUTTON STEREO SPEAKER SUPPORT HANDS FREE CALL NFC MIC FM RADIO WITH USB TF CARD AUX INPUT (BLUE)
Features:
-Bluetooth specification: V3.0
-Light-sensitive touch buttons: A higher degree of sensitivity and discrimination.
-With bass diaphragm, bass enhancement.
-Support TF card ( Max to 32GB, TF card not included ) USB and AUX music input, such as U disk , TF card, cellphones and other devices etc.
-With FM function: Can automatically search and store channels.
5B external high-capacity rechargeable battery, easy to replace.
-Press and hold the button down songs, songs can fast forward or backward.
-3D surround sound: Puts you among the different levels of music, wonderful and immersive.
-The Bluetooth voice broadcast: Default bilingual voice broadcast language in English and Chinese, press the mode button for three seconds and can switch the language. And broadcast content includes: Enter the Bluetooth mode, Bluetooth connection, low battery please charge.
The NFC Function
Only can be used by the phone with this function
Bluetooth mobile phone opens NFC function, and ensures the speaker to the Bluetooth mode, the Bluetooth mobile phone and speaker module of NFC contact 2 - 3 seconds. Hear the speaker voice and can increase the Bluetooth connection.
Reminder:
If the machine crashes, the battery can be pull out and re-installed, then can be started. The more specific using method can be seen in the user manual please.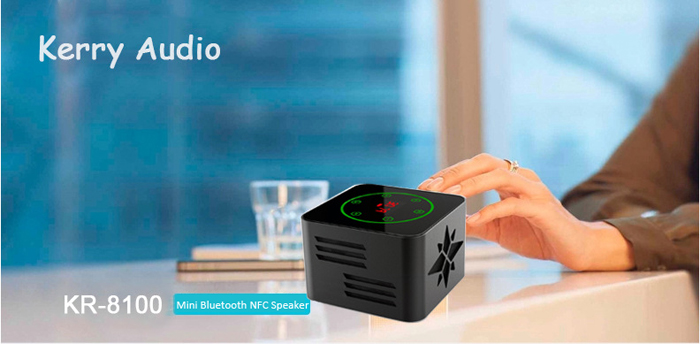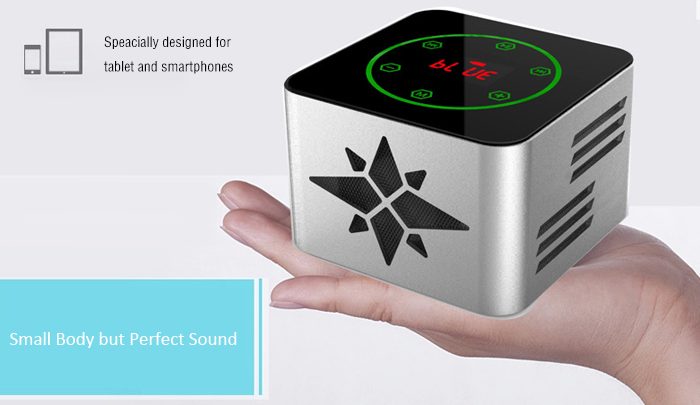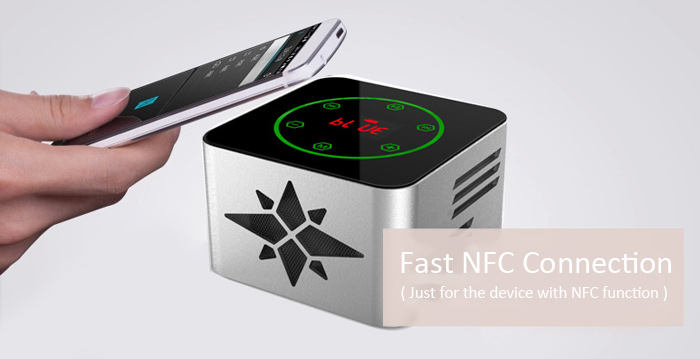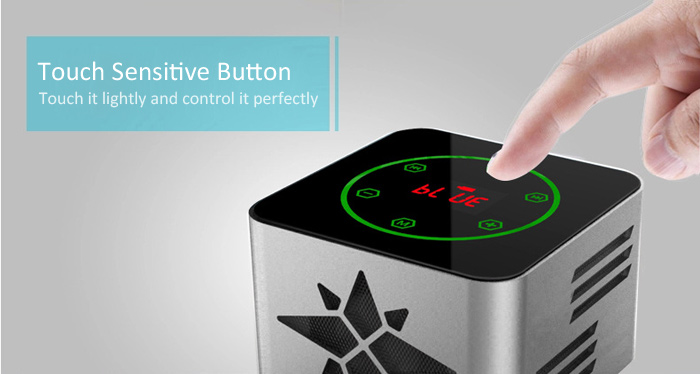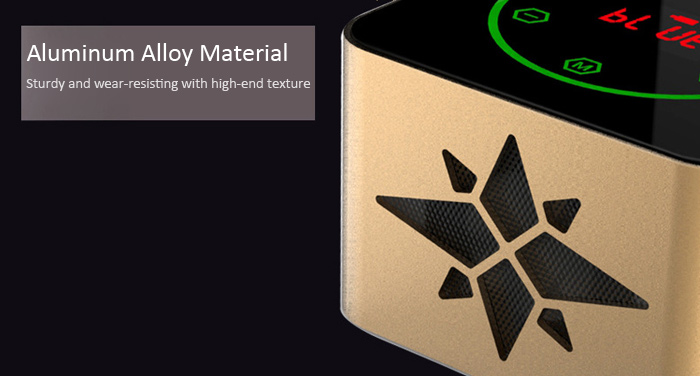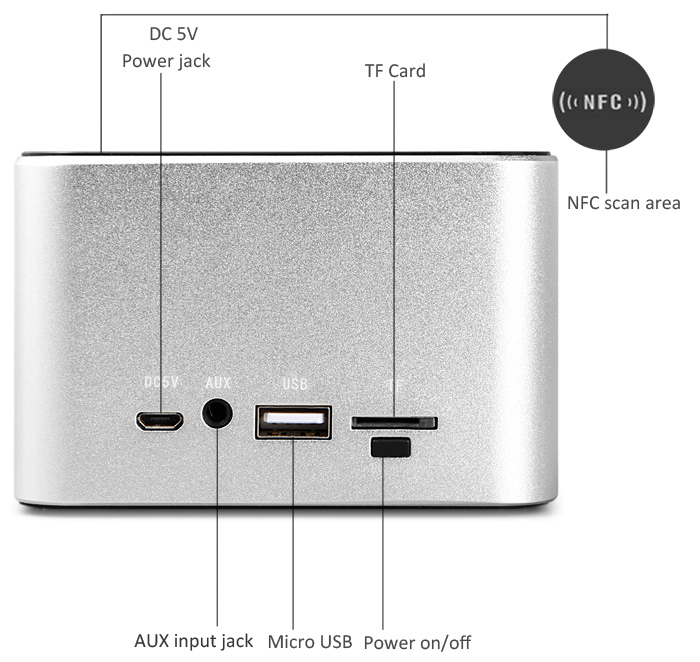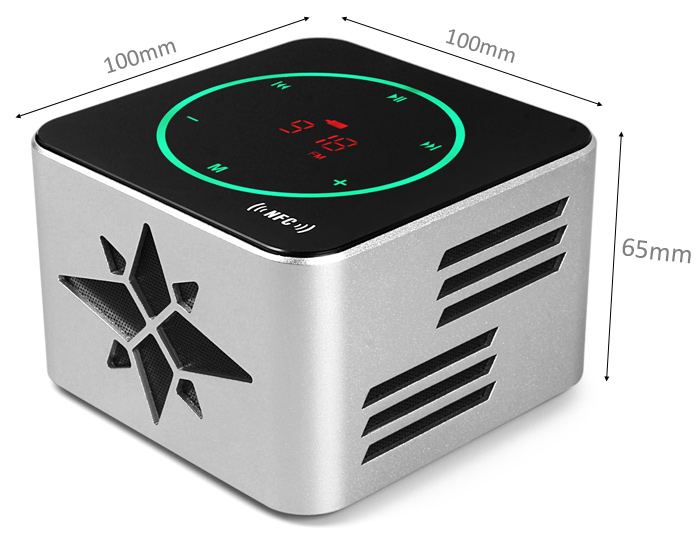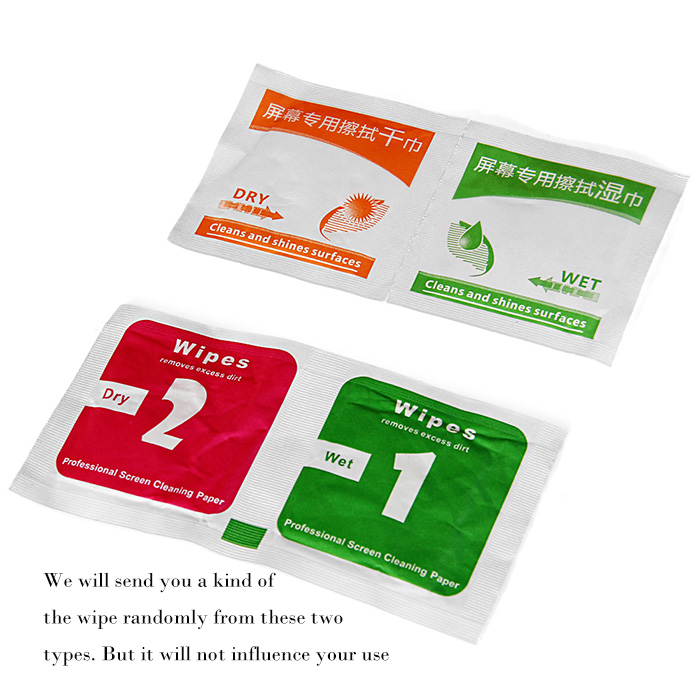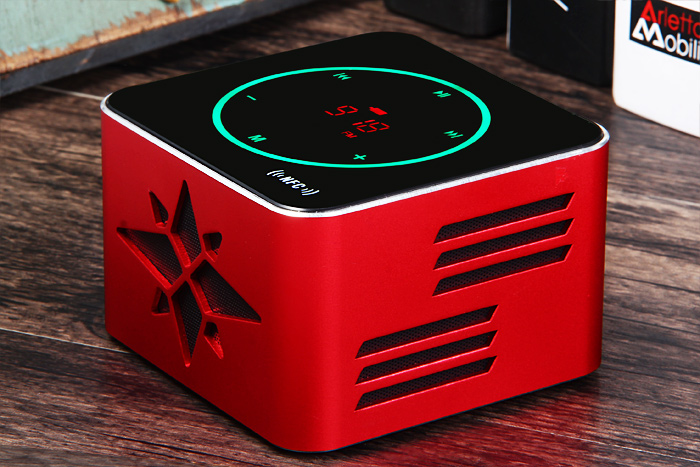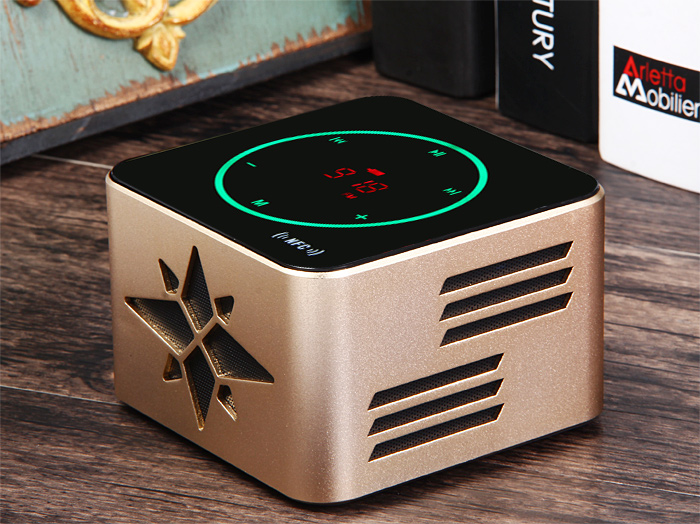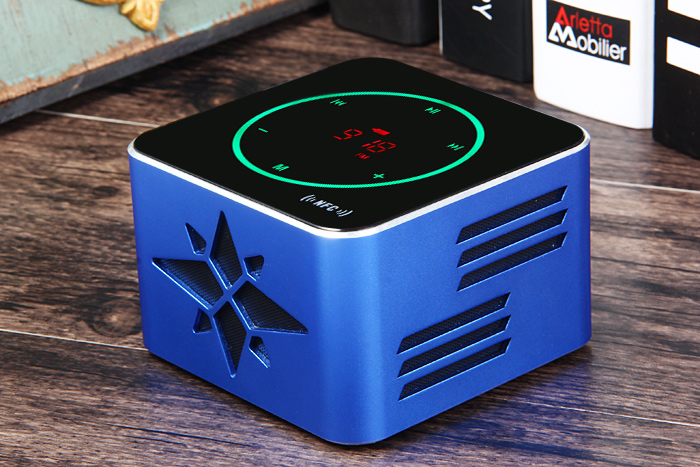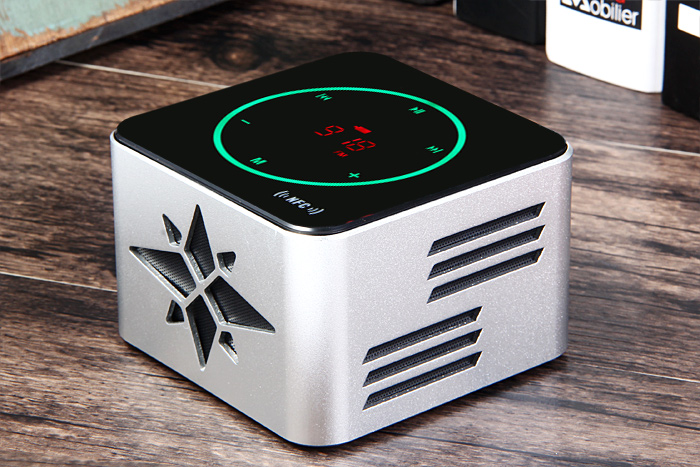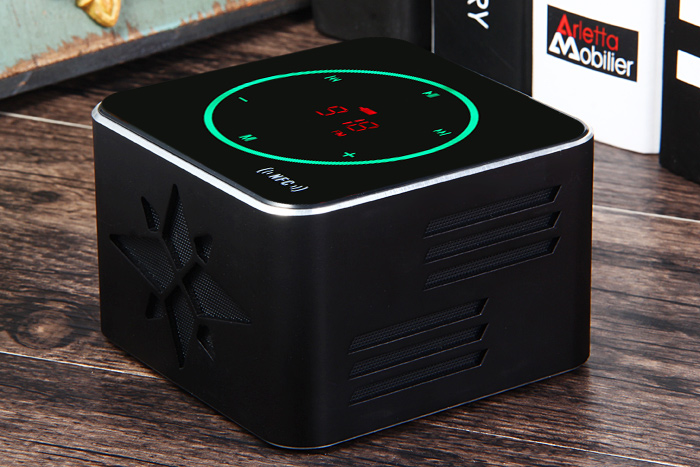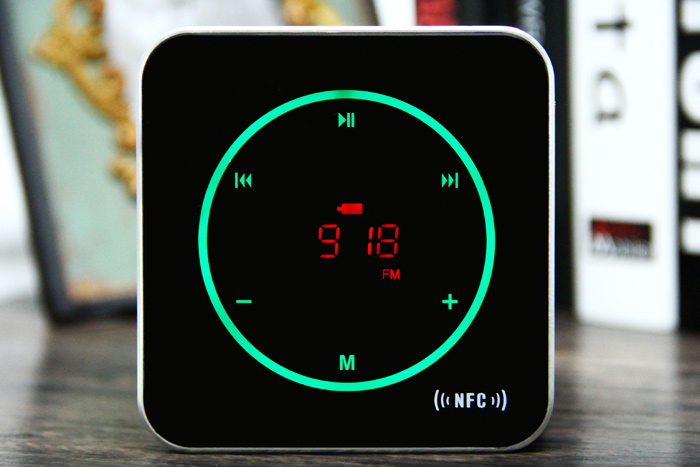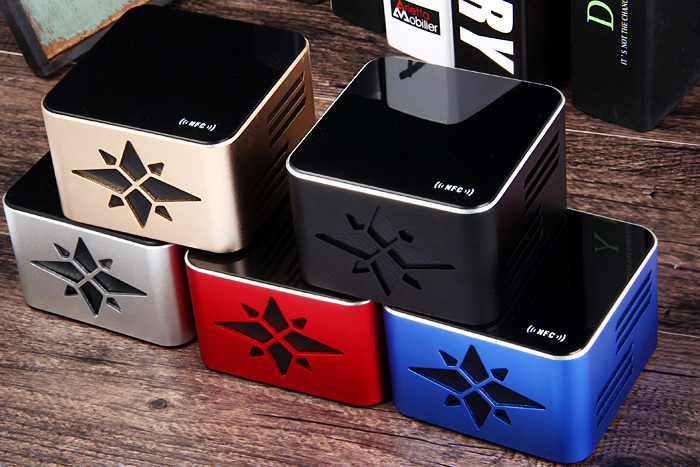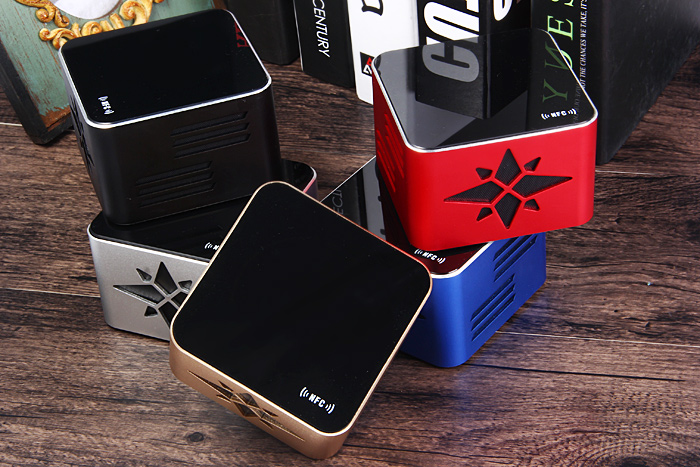 Brand: Kerry Audio
Model: KR - 8100 NFC
Design: Cool,Portable,Stylish,Fun,Multifunctional,Mini
Compatible with: Tablet PC,MP4,MP3,PC,Mobile phone,iPod,iPhone,Laptop,TF/Micro SD Card
Supports: FM,Bluetooth,NFC,Microphone,Hands-free Calls,Volume Control,LCD Screen,TF Card Music Playing,LED Shinning,Loudspeaker
Functions: Stereo,AUX Function,Songs Track
Connection: Wireless
Interface: USB2.0,Micro USB,3.5mm Audio,Power Charge Port,TF Card Slot
Audio Source: TF/Micro SD Card,Electronic Products with 3.5mm Plug,U-disk,Electronic Products with USB port,Bluetooth Enabled Devices
Material: Metal
Color: Black,Red,Blue,Golden,Silver
Bluetooth version: V3.0
Transmission Distance: W/O obstacles ?10m
Driver unit: 52mm
Speaker Impedance: 4 ohm
Power Output: 3W
Freq: 100Hz-18kHz
S/N: 85dB
Charging time: 5 - 6 hours
Lasting Time: 4 - 5 hours
Package weight: 0.627 kg
Product size (L x W x H): 10.0 x 10.0 x 6.5 cm / 3.93 x 3.93 x 2.55 inches
Package size (L x W x H): 11.5 x 11.5 x 9.5 cm / 4.52 x 4.52 x 3.73 inches
Package Contents: 1 x KR - 8100 NFC 3D Sound Wireless Bluetooth V3.0 Light Sensitive Touch Button Stereo Speaker Support Hands Free Call NFC MIC FM Radio with USB TF Card AUX Input, 1 x USB Cable, 1 x 3.5mm Audio Cable, 1 x Product Film, 1 x 5B Battery, 2 x Wipes, 1 x English User Manual
---