QPLANT SMART TOUCH MUSIC FLOWERPOT RECHARGEABLE WIRELESS (IVORY WHITE)
A Magic Plant Piano
This is a magic plant piano. Can you imagine playing the piano on a real plant? Grow your favorite plant in this magic flowerpot. The plant will play a song by every touch on it, just like you are playing the piano. Meanwhile, a warm ring light will twinkle along with the rhythm. It's not only a flowerpot that you can pot up to purify air that at home or office, but also a night light. You shouldn't miss it!

What You Will Get
Surround Yourself with Music
It is a flowerpot that can sing. Gently touch the leaves, and you will hear a pleasant song, which will relieve your pressure and get a lot of fun from it.

Double Work Modes
Play mode: touch the plant then it will give you light and sound response.
Night light mode: long touch the plant and it will constant light to give you a warm and cozy environment.

Innovation Design
It adopts ultrasonic welding technology to make the product waterproof. The special structure can prevent the plants' root rotting. The bottom has a drainage hole, which can effectively prevent excessive water.

Specifications:
- Voltage: 5V, 1A
- Material: ABS and PC
- Power supply: USB cable
- Cable length: 1m
- Working decibel: 65dB
- Charging time: 1 hour
- Continuous working time: one week
- Standby time: 45days

Cautions:
1. The product has low power consumption, and it doesn't have turn off button. If the charging mode cable is removed, it will auto turn off in 15mins if no one touches the plant. In night light mode, the time will be 30mins.
2. If you turn it on and find the light blink 3 times, which means the battery is low, and need to be charged.
3. Different plants and soil water content will have the different touch sensitivity, if you have found that there is no touch response, please check if the plants are high water content plants, or the soil is wet enough.
Package weight: 0.385 kg
Package Size(L x W x H): 12.00 x 12.00 x 15.00 cm / 4.72 x 4.72 x 5.91 inches
Package Contents: 1 x Music Flowerpot, 1 x USB Cable, 1 x User Manual in English and Chinese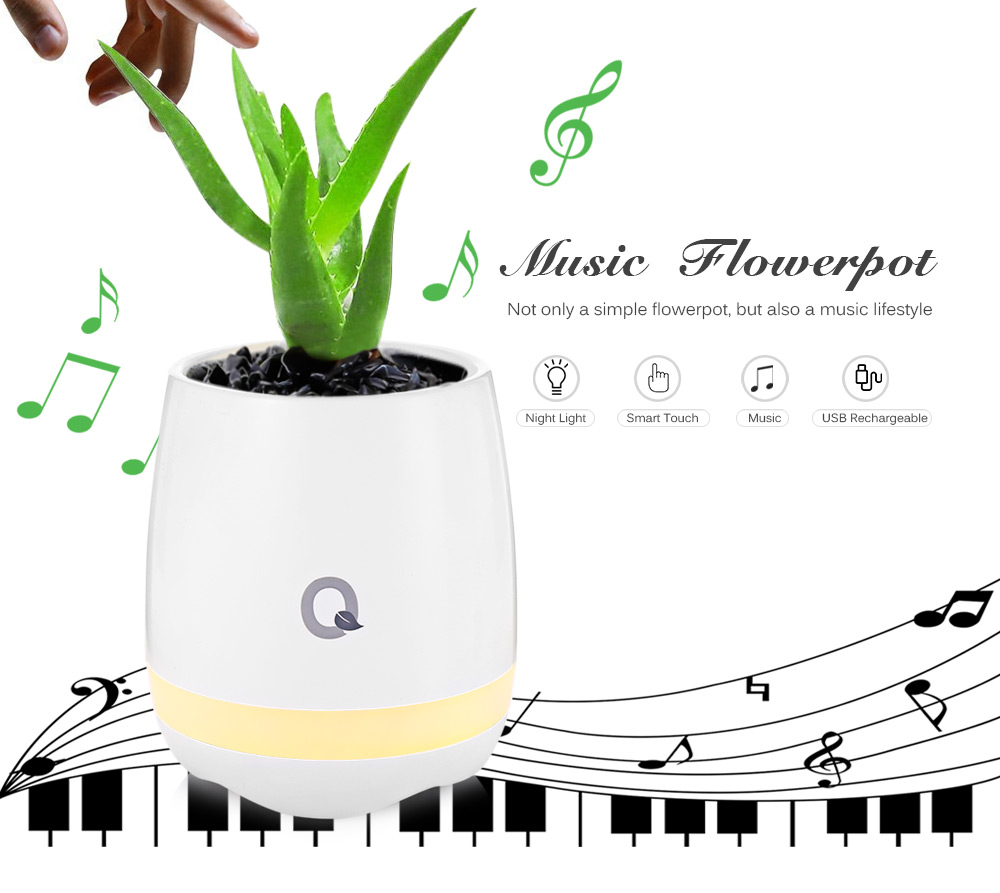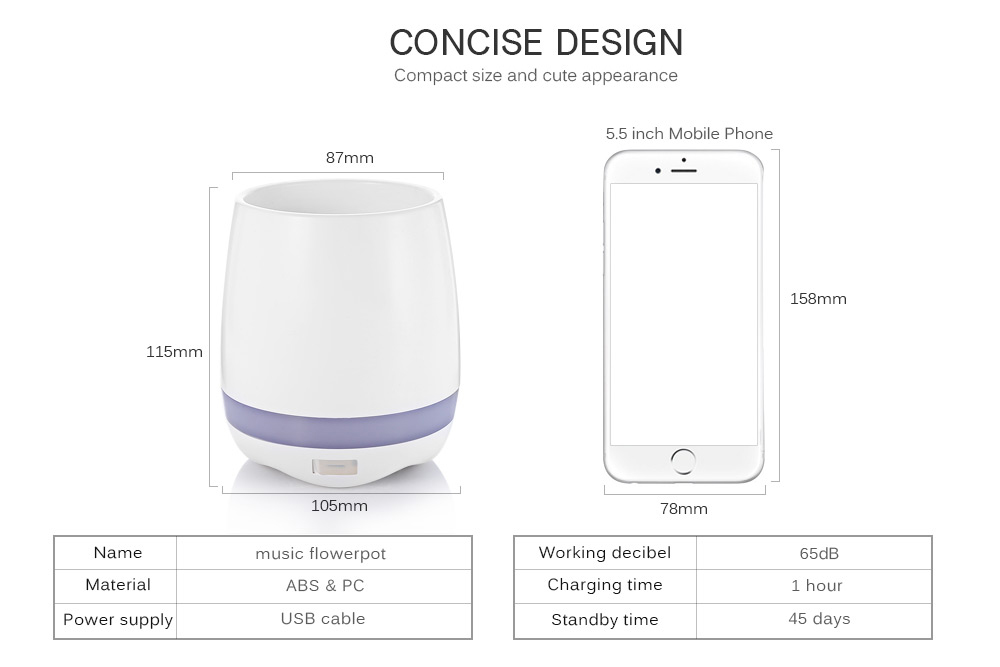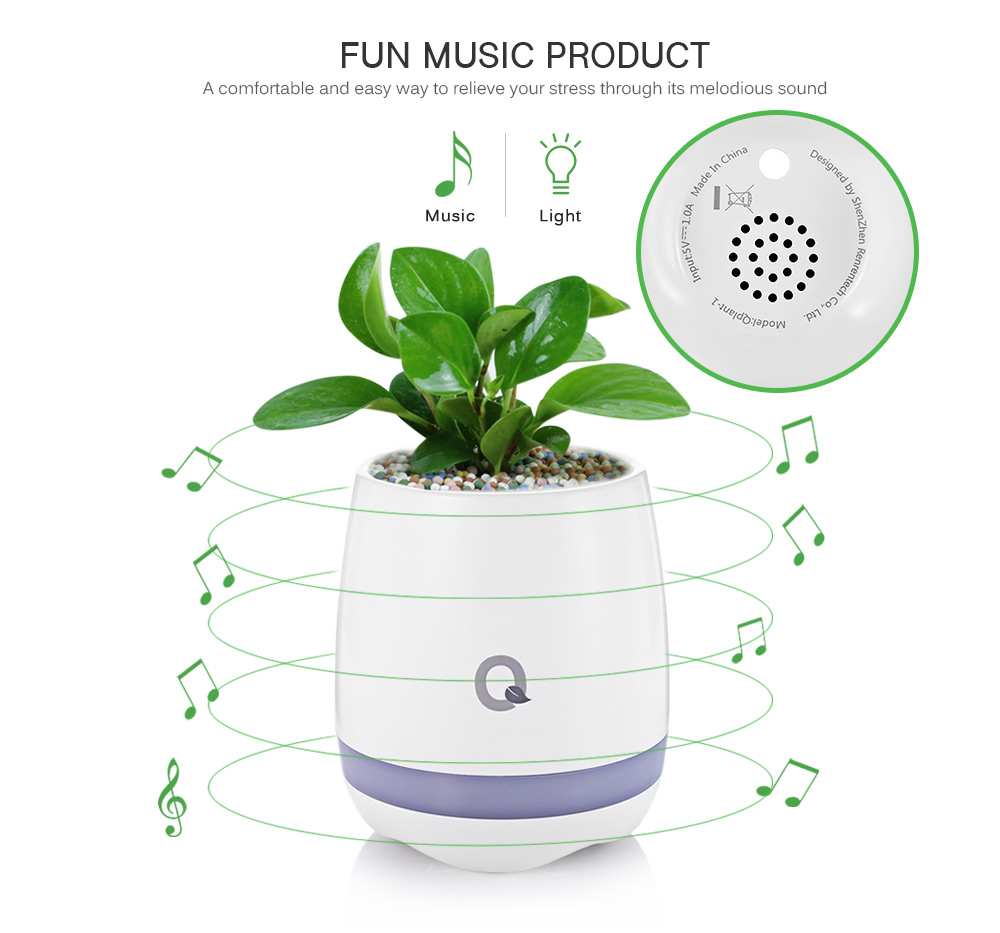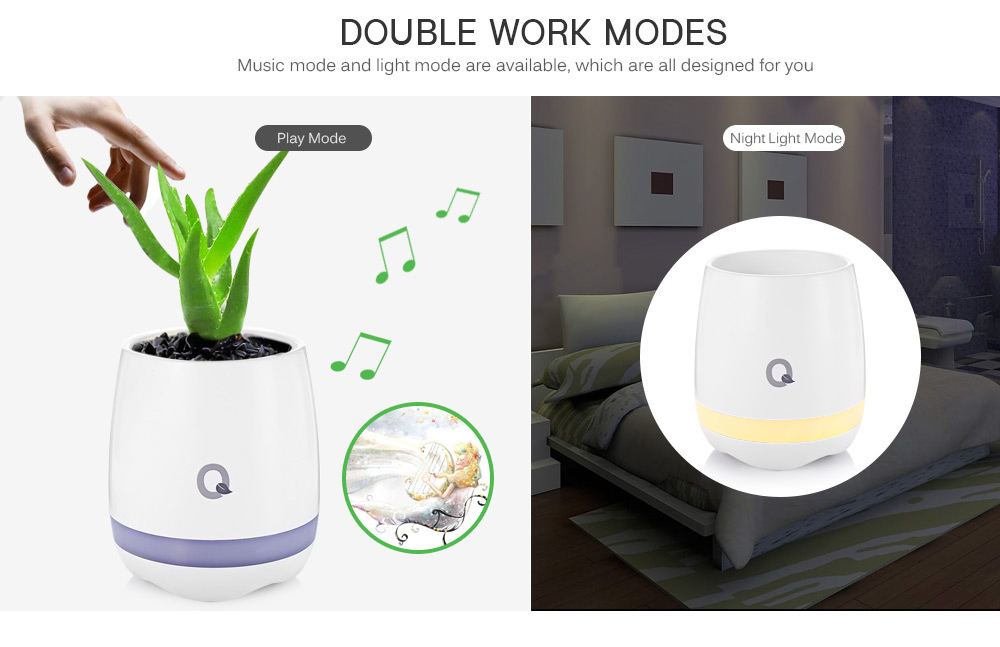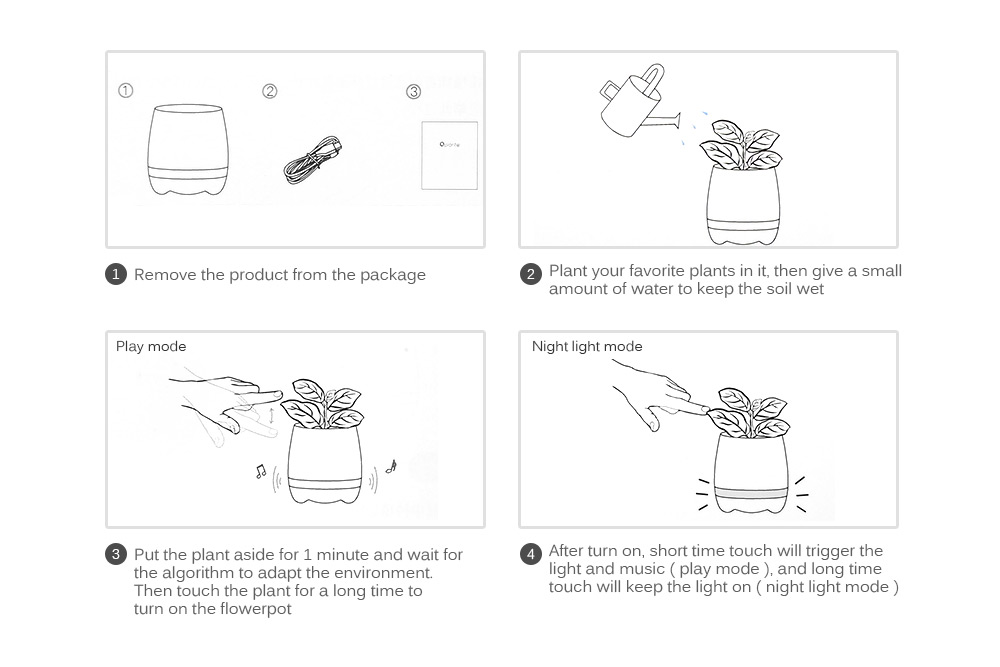 ---